Please take a moment to read the information on this page to get a better understanding about how to place an order with us.
If there's anything you're unclear about, or if you can't find the information that you're looking for, please
contact us
, thank you.
What exactly do you do?
We are shoemakers but not on a full time basis. We can make any women's shoes from high heels to flats, and we can make hand-sewn ruby slippers as well. This website, however, is mainly about making the ruby slippers as worn by Judy Garland as Dorothy in The Wizard of Oz. Making different styles of women's shoes is not our daily job but we know how to make them and you could send a request.
Are your shoes made like the original ruby slippers?
Yes. To make a long story short, crafting a pair of ruby slippers using the same technique as the origial ruby slippers involves a lot of sewing. We sew all the sequins onto the shoes, and we sew all the beads and stones onto the bows.
Are the ruby slippers wearable?
Yes, we make wearable hand-sewn ruby slippers. The original ruby slippers were made to be worn and not made for display, however you can use our ruby slippers for display purposes if you wish.
Can you make the ruby slippers in my size?
Yes, that's not a problem. We have the ability to make ruby slippers exactly in Judy Garland's size or a custom size of your choice.
How long does it take you to make a pair of ruby slippers?
Between 5 to 8 weeks because of the time to make the shoes, and then the time to sew the sequins and stones by hand. We strive for perfection in everything we do so we will make sure that you're happy with your order.
How much does a pair of ruby slippers cost?
We can't really give you a specific figure because there are many factors that determine the price. For instance, a larger shoe size would cost more than an infant size. Higher quality wooden heels, leather and fabric to make the shoes would also increase the price a bit. All of our ruby slippers are made from base shoes that is handmade from scratch, therefore you're getting a brand new pair of shoes and not second hand shoes from a thrift store or Saint Vinnies, and there's our time spent on sequining the shoes and crafting hand-sewn bows, so these are some of the things that may jack up the price of your order.
How do I place an order for a pair of ruby slippers?
You can't place an order directly through our website because this is just a hobby for us and we may not have time to work on your shoes immediately. Please get in touch with us through email or social media and we will let you know the price and the start date, then you can decide if you wish to go ahead with your order. We prefer PayPal as the payment method, but if you have another alternative to make your payment, we will give it some thought. We accept full payment or installments, thank you.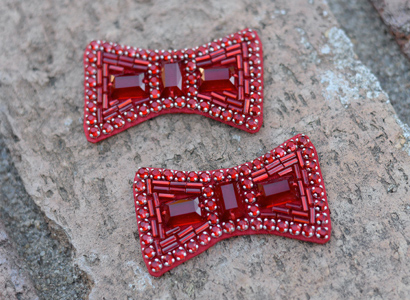 Many people say our hand-sewn bows are the best they've seen.